Workshop on "Investment in Germany"
Schindhelm held a workshop on Thursday, November 7th, 2019 on the topic "Investment in Germany " organized and hosted by the German Centre for Industry and Trade Taicang. The workshop delved into three specific aspects of doing business in Germany: (i) establishing a German GmbH from a practical view, (ii) acquisition of real estate, and (iii) enforcement of claims. Both lawyers Secilia Guo (Schindhelm Shanghai) and Marcel Brinkmann (Schindhelm Osnabrück) shared their experiences in assisting Chinese companies entering the German market and highlighted how to avoid typical pitfalls, which induced a vivid discussion with the participating representatives of distinguished Chinese businesses.
Schindhelm would like to thank Mr. Matthias Müller and the German Centre Taicang for the excellent organization of the successful workshop.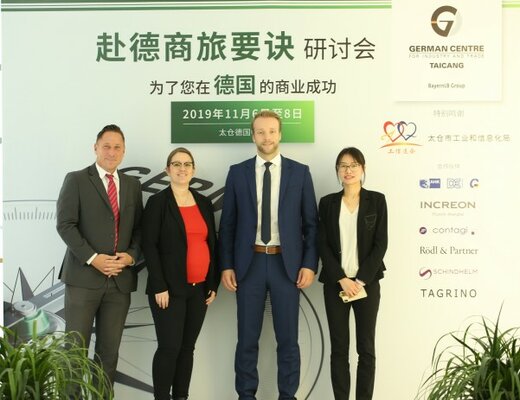 Matthias Müller, Marieke Bossek, Marcel Brinkmann and Secilia Guo