Tax and Commercial Criminal Law
Today, more than ever, entrepreneurial activity harbours the risk of coming under the spotlight of the state prosecutor's office, tax fraud investigations teams or other investigative authorities. Hardly a day goes past without a report of house searches and arrests. Frequently, it does not emerge until many years later that the accusations were unjustified or initiated as the result of anonymous reporting by competitors.
The possible damage to the company and company management is high. This applies in particular when the persons concerned are initially involved in the investigative proceedings without the assistance of defence counsels specialised in commercial criminal law. For particularly in this early stage, the course is regularly set for the outcome of possible criminal proceedings. An unconsidered plea without any knowledge of the background relevant under criminal law can cause irreparable damage, in particular also if the accusations against the persons concerned are unfounded. In addition to the harm to a company's image, there is also a risk of high financial losses; frequently, confiscations of assets can ruin the company concerned in just a few days.
It is therefore all the more important to include experienced defence counsels specialising in commercial criminal law at an early stage. Our team has many years of comprehensive experience in tax and commercial criminal law. Whether it is in preventive consulting prior to any investigations pursuant to criminal law, or in the consulting and representation in investigative and criminal law proceedings. In addition to the defence proceedings, we also represent you in the disputes to be monitored in parallel in the taxation proceedings, in social security contributions law or also in seizure proceedings with authorities.
Focus areas of activity
Immediate assistance in searches, in particular also help in house searches on site and if necessary with several lawyers
Defence with regard to tax and commercial criminal law in all phases of the investigative proceedings, also with other defence counsels and tax consultants in the team
Defence in all court proceedings before the German criminal law courts, from district court, regional court, upper regional court to the Federal Court of Justice
Conducting of tax dispute proceedings in all stages
Accompaniment of company audits or search audits, including the checking of company audit reports, financial reports, amendment statements to the representation before the financial courts or the Federal Fiscal Court
Preventive advice in the formulation of contracts to prevent any circumstances relevant under criminal law
Advice on voluntary self-disclosure, for instance in Liechtenstein cases, including a precise calculation of tax and precise scheduling in consultation with your bank (for initial information, the checklist for voluntary self-disclosure is available)
Checking as part of due diligence and compliance consulting, in particular with forthcoming company audits with regard to tax
Defence with regard to insolvency law, including representation in the frequently parallel liability proceedings pursuant to fiscal and social insurance law
Defence in corruption and bribery proceedings
Support in embezzlement, fraud and misappropriation proceedings and with all balance sheet offences, including money laundering proceedings
Presentations on an all topics of tax and commercial criminal law
Team
Anke Brinkhus >
Downloads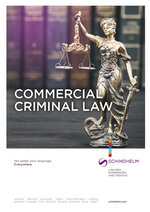 Folder Commercial Criminal Law
Criminal Tax Law / Compliance
Compliance
Tax and Commercial Criminal Law